Ajaccio vs PSG match was a match that had Mbappe and Messi class embossed throughout. In an outstanding football brilliance, Kylian Mbappe and Lionel Messi helped Paris Saint-Germain defeat AC Ajaccio 3-0 on Friday in Ligue 1.
At the Stade Francois-Coty, Mbappe scored twice on assistance from Messi and then returned the favour by assisting Messi on his own goal in between as PSG finally won easily.
With the rest of this weekend's games yet to play, the victory extends PSG's lead over Lorient to six points in Ligue 1.
For the first ten minutes, PSG's strikers waited for an opportunity to attack as Ajaccio tried to hold onto possession and build on it.
Ajaccio vs PSG Ligue 1: Messi and Mbappe thrills the stadium with outstanding synergy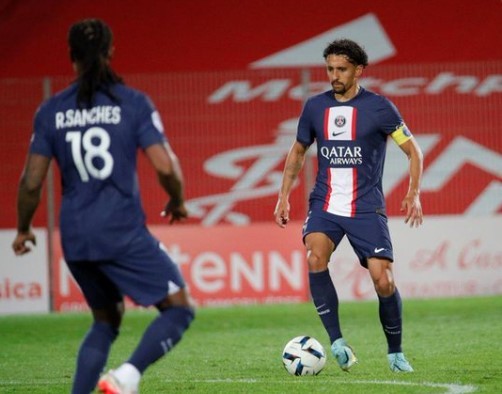 In the fourth minute, Mounaim El Idrissy missed a shot from a tight angle, giving Ajaccio their first opportunity of the game.
After saving a deflected free-kick attempt in the 13th minute, Ajaccio goalkeeper Benjamin Leroy again thwarted Messi.
Messi's inch-perfect through ball allowed Mbappe to open up his body and finish first-time into the far corner of the goal, giving the visitors the lead midway through the first half. The goal stood despite a thorough investigation by the video assistant referee for a possible offside.
Before halftime, Mbappe had a chance to extend PSG's lead after Achraf Hakimi crossed the ball across the penalty area, but he made an obvious error and missed the goal.
Up until the final 20 minutes, the second half was largely unremarkable, but Leroy was occasionally called upon to play.
In the 78th minute, the three points were essentially locked up. The move was initiated by Messi, who later beautifully connected with Mbappe. After receiving the ball back, Mbappe deftly sidestepped the Ajaccio goalkeeper and finished into an empty net.
Four minutes later, Messi again found Mbappe, who despite being off balance, had enough on his shot to score. This added glitter and excitement to the scoreline.
Marquinhos featured in his 380th match for Paris Saint-Germain at Ajaccio, joining Sylvain Armand as the third most capped player in the club's history behind Jean-Marc Pilorget (435 matches) and Marco Verratti (393)