Mumbai, September 28, 2023 – As the city of Mumbai prepares to bid farewell to Lord Ganesha on the auspicious occasion of Anant Chaturdashi, the Mumbai Police have announced a massive deployment of over 19,000 police personnel to ensure the safety and security of citizens during the final day of the 10-day long Ganesh festival.
Anant Chaturdashi, celebrated on September 28th, marks the culmination of the vibrant Ganpati festival in Mumbai. In anticipation of the grand processions to immerse the idols of Lord Ganesha, the Mumbai Police, along with additional support from the State Reserve Police Force (SRPF), quick response teams (QRT), Rapid Action Force (RAF) company, and home guard personnel, are leaving no stone unturned to maintain law and order.
According to an official press note released by the Mumbai Police, the security apparatus includes eight Additional Commissioners of Police, 25 Deputy Commissioners of Police, 45 Assistant Commissioners of Police, as well as 2,866 police officers and 16,250 constable-rank personnel.
To facilitate the immersion process, the city has designated 73 natural immersion sites and 162 artificial lakes, with major immersion sites including Girgaon, Juhu, Marve, Dadar, and Aksa beaches. Stringent security arrangements have been put in place at these locations to ensure a smooth and orderly conclusion to the festival.
In addition to the Mumbai Police, 35 SRPF platoons, QRT teams, RAF company units, and home guard personnel have been strategically stationed at various points across the city to provide comprehensive security coverage.
Anant Chaturdashi: Yellow Alert Issued for Mumbai, Thane, Raigad and Palghar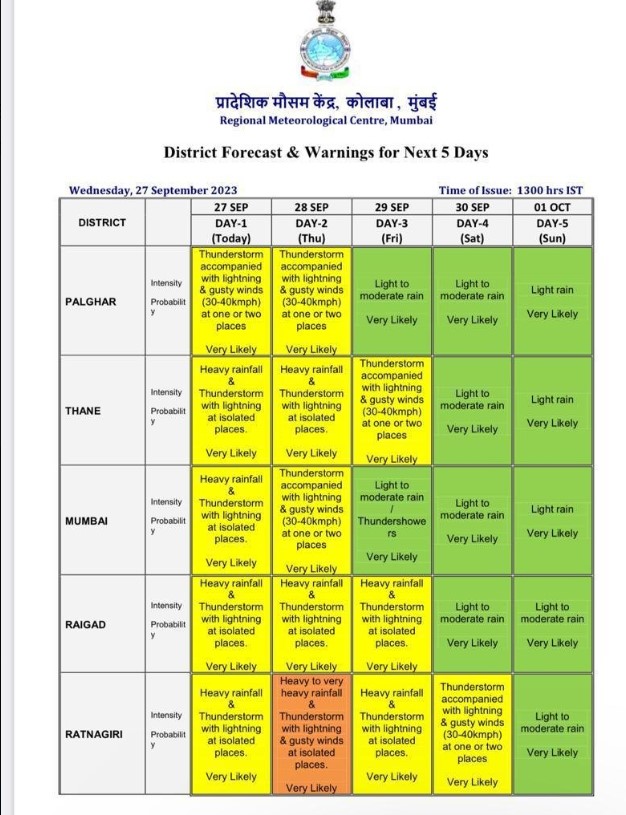 However, the Anant Chaturdashi 2023 festivities may face a weather-related challenge, as the weather department has issued a rainfall warning for various parts of Maharashtra on this significant day.
Meanwhile, a yellow alert has been sounded in Palghar, Thane, Mumbai, and Raigad districts to caution residents about the inclement weather conditions and to ensure their safety during the conclusion of the Ganpati festival.
What is Anant Chaturdashi?
Anant Chaturdashi, a significant Hindu festival celebrated across India, marks the conclusion of the ten-day Ganesh Chaturthi festival. Falling on the fourteenth day of the lunar fortnight (chaturdashi) in the Bhadrapada month of the Hindu calendar, Anant Chaturdashi holds immense religious and cultural significance. Devotees bid farewell to the elephant-headed God, Lord Ganesha, by immersing clay idols of him into water bodies, symbolizing his journey back to his heavenly abode. The festival is also known for its grand processions, elaborate rituals, and heartfelt devotion, bringing communities together to seek Lord Ganesha's blessings for prosperity and success.