WhatsApp Video New Messaging Features: WhatsApp, the world's most popular messaging app, is rolling out out a series of new features aimed at empowering user. It has announced that iOS users will soon be able to send 60-second video messages to their contacts. This feature will be available in the next update of the app and is expected to be rolled out globally in the coming weeks.
Previously, iOS users could only send videos that were up to 16 seconds in length. With this update, users will have more time to express themselves and share moments with their friends and family.
To send a 60-second video message, users will simply need to open a chat with the contact they wish to send the message to and tap the camera icon. From there, they can choose the video recording option and record for up to 60 seconds. Once the video is recorded, it can be edited and previewed before sending.
WhatsApp Video Messaging : Highlights of the New iOS Feature
This new feature is expected to be especially useful for those who want to send longer videos to their contacts, such as travel videos, event highlights, or even personal messages.
WhatsApp has also assured users that this new feature will not compromise the app's end-to-end encryption, which ensures that messages and calls remain private and secure.
With this update, WhatsApp continues to improve its messaging platform and provide users with more ways to stay connected with their loved ones. As always, users are encouraged to update their WhatsApp app to access the latest features and improvements.
In conclusion, this new update is sure to be welcomed by WhatsApp users, particularly those on iOS devices, who will now be able to send longer video messages to their contacts.
WhatsApp Group Admin Features Update
The new features are designed to give admins more control over the groups they manage, and to make it easier for them to communicate with members.
One of the key new features of WhatsApp Group Admin Functionality, is the ability for group admins to remove admin privileges from other group members. This means that if a member is no longer trusted with admin powers, the admin can simply remove their access without having to remove them from the group altogether.
Another important new feature is the ability for group admins to control who can send messages in the group. This is especially useful for larger groups where too many messages can become overwhelming. Admins can now choose to allow only themselves to send messages, or they can limit messaging to only certain members.
WhatsApp Group Admin will also feature a new interface that lets group admins turn off the ability for members to send images, videos, or GIFs in the group. This is useful for groups where members are sharing sensitive information or where members are prone to sharing inappropriate content.
WhatsApp Group Admin Highlights of the new features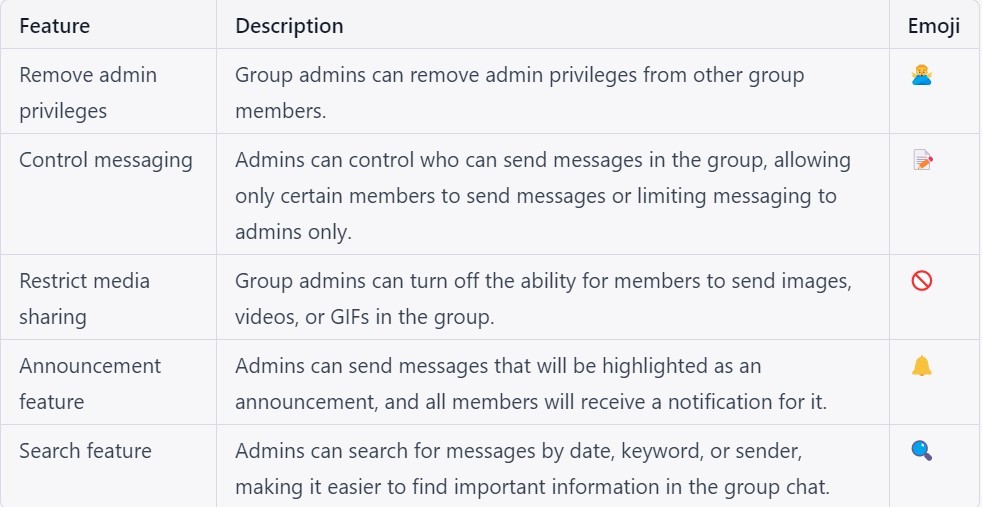 In addition to these group management features, WhatsApp has also introduced a new feature that makes it easier for group admins to announce important news or events. Admins can now send a message that will be highlighted as an announcement, and all members will receive a notification for it.
Finally, WhatsApp Group Admin function has added a new search feature that makes it easier for group admins to find specific messages in a group chat. Admins can now search for messages by date, keyword, or sender, making it easier to find important information.
These new features are expected to be especially useful for businesses, organizations, and other groups that rely heavily on WhatsApp for communication. With these features, group admins will have more control over their groups, and communication will become easier and more efficient.
WhatsApp has always been committed to user privacy, and the company has emphasized that these new features have been designed with privacy in mind. All group members will still have their messages protected with end-to-end encryption, and admins will only have access to the messages that they are authorized to see.
In conclusion, WhatsApp's new features for group admins are a welcome addition to the app, and they are sure to make group management easier and more effective. With these new tools at their disposal, admins will be able to create better, more organized groups that will be more useful and engaging for their members.