Ola has launched the first user-friendly Ola Electric Vehicles Ola S1 and S1 Pro scooters with a top speed of up to 115 Kms per hour backed by a battery range of 181 km in India from the Ola FutureFactory in Tamil Nadu.
The new electric scooters from Ola Electric scooters launched by CEO Bhavish Aggarwal come with smart connectivity features when paired with a smartphone.
What makes them stand out is the new user-friendly features like navigation, calling, WiFi connectivity, and separate rider profiles, the Ola S1 and S1 Pro are the smartest connected electric two-wheelers for the mass market in India.
Ola is setting a new industry benchmarks with a range of 181 Kms, acceleration of 0-40 kmph in 3.0 seconds, and a top speed of 115 kmph. It has a 3.97kWh of battery capacity, more than 30% higher than the next closest EV, and the most powerful motor in the category with 8.5 KW of peak power.- Bhavish Aggarwal
Check out Ola New Electric Scooters Features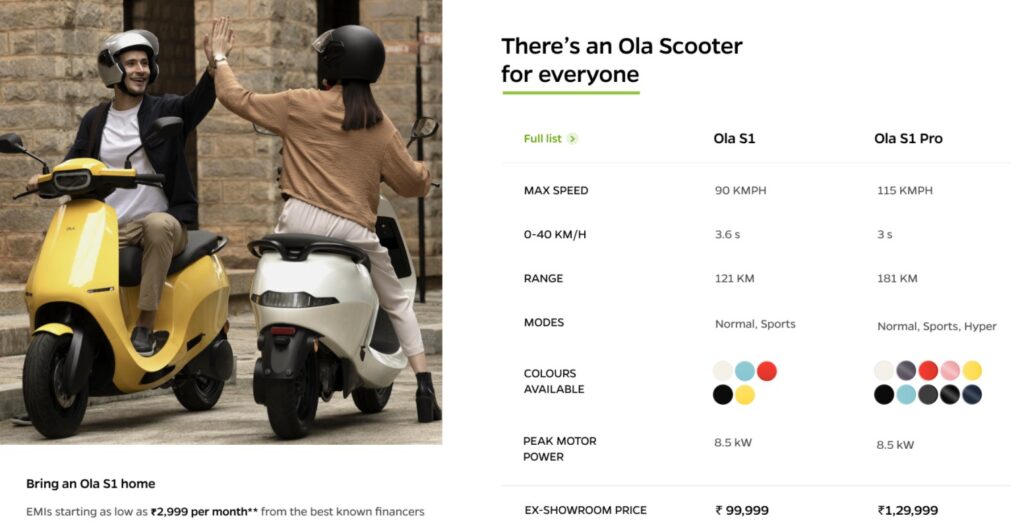 Setting a new trend Ola S1 and S1 Pro scooters offers the most feature-rich electric two-wheelers in India right now. There's WiFi, 4G, and Bluetooth connectivity. From the keyless start, voice control, widgets, and navigation the new Ola scooters ensure that you don't have to clip your smartphone to the handle.
Interestingly, you can even change the speedometer theme and the 'sound' the scooters make while riding. Both models can be remotely controlled from your smartphone.