Skyroot Aerospace Max-Q Global HQ and Skyroot Vikram-1 Orbital Rocket was launched by Union Minister of State for P.M.O., Space, Science & Tech, and Atomic Energy, Dr. Jitendra Singh today Dr. Singh took tour of the facility and applauded the success journey and the cutting edge and the new global headquarters of Skyroot Aerospace, said to be the country's largest private rocket development facility.
Vikram-1 is a technologically advanced, multi-stage launch vehicle with payload capacity of around 300Kg to Low Earth Orbit. It is an all-carbon-fibre bodied rocket which can place multiple satellites to orbit, which will be India's first in the space sector and first few globally, and features 3D printed liquid engines.
Planned to be launched in the early months of 2024, Vikram-I will be Skyroot's second rocket, after the successful launch of the Vikram-S rocket on the 18th of Nov 2022, a historic event attended by Dr. Jitendra Singh.
Mos Dr. Jitendra Singh Applauds Skyroot Aerospace Unique Accomplishments and Space Technology Advancements
Skyroot's new headquarters, named as MAX-Q, is a state-of-the-art infrastructure which houses integrated design, manufacturing and testing facilities for the building of space launch vehicles, and design space for the 300-member strong workforce of Skyroot.
The facility which covers a sprawling 60,000 square feet built-up area, with further plans for expansion in the near future, is designed and built on a futuristic space theme, which resonates the spirit of Skyroot to democratize space access for the rapid progress of humanity.
The success of Skyroot Aerospace is an inspiration to India's vast youth talent pool – Minister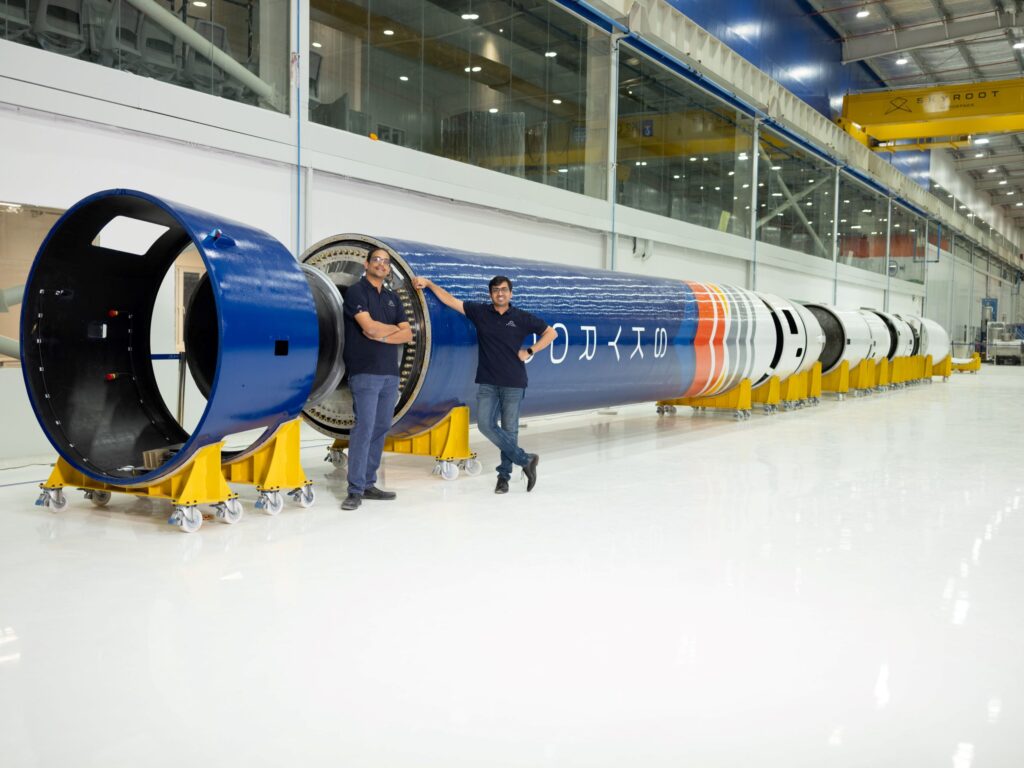 Unveiling the Vikram 1 rocket, Union Minister Dr. Jitendra Singh said that "The success of Skyroot is an inspiration to India's vast youth talent pool aspiring to set up their own Startup ventures, especially in new and emerging sectors including Space, BioTech, Agriculture and Energy. PM Modi has enabled India to earn universal recognition for India's science, technology and innovation capabilities and our StartUps are much sought after." said Dr. Jitendra Singh.
Pawan Chandana, Co-Founder and CEO of Skyroot Aerospace commented "Every rocket during its travel to space, has to push through a point of maximum stress called 'Max-Q'. Our MAX-Q headquarters serves as a powerful symbol of our unwavering commitment to pushing boundaries and accomplishing the extraordinary, all in pursuit of our mission to Open Space For All. We express our deep gratitude to Dr. Jitendra Singh for gracing this momentous occasion, just like the Hon. Minister's presence during the launch of our historic Vikram-S rocket in 2022, a pivotal event for India's private space industry."
"The unveiling of our Vikram-1 space launch vehicle on the same day as our new headquarters inauguration is a moment of great pride. Our design prowess and cutting-edge home-grown technology have been integral to the creation of Vikram-1. As we eagerly prepare for the early 2024 launch, we will keep sharing further updates on the orbital mission with Vikram-1." Said a beaming Bharath Daka, Co-Founder and COO of Skyroot.
With MAX-Q becoming functional, Skyroot's facilities total four, with a cumulative built-up area of 100,000 square feet, placing it among one of the largest rocket development facilities in the private sector globally.