Vodafone Idea's share price took a big nose dive going down 20.88% on Tuesday to close at Rs 11.75 per share after the struggling telco's board approved the conversion of AGR dues and spectrum interest into equity. The move will see the government of India becoming a shareholder of the company, picking up nearly 36% stake in the firm.
"It is now informed that the Board of Directors, at its meeting held on January 10, 2022, has approved the conversion of the full amount of such interest related to spectrum auction installments and AGR Dues into equity," the company announced in a filing to BSE.
This move will result in dilution for all the existing shareholders of the company, including the founders, the unprofitable wireless carrier said in a stock exchange filing.
Vodafone Group Plc will own around 28.5% and Aditya Birla Group will have about 17.8% in the company, it said.
Indian Government to own 36% stake in Vodafone Idea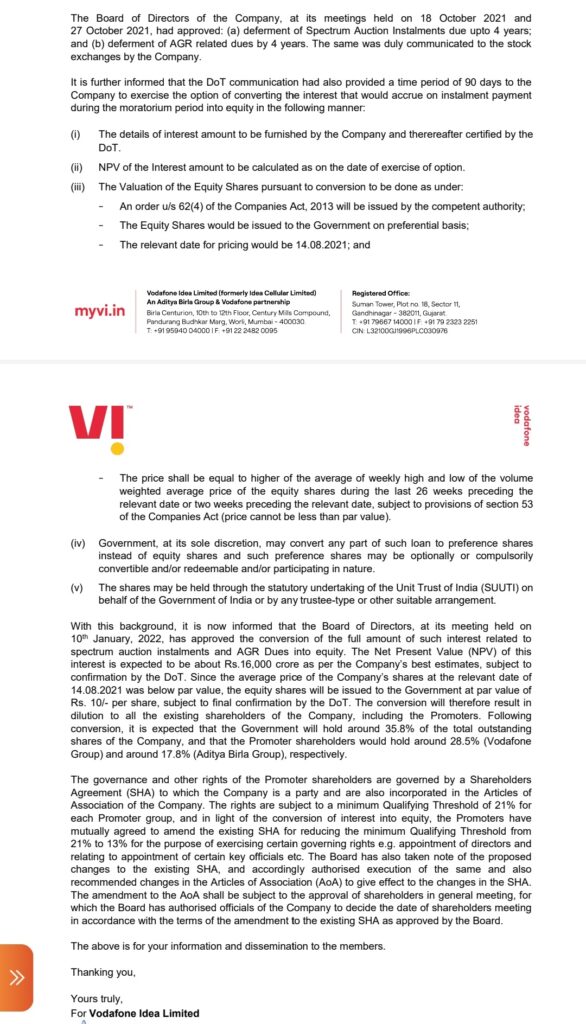 This rescue plan was crucial for Vodafone Idea, a joint venture between the Vodafone Group and billionaire Kumar Mangalam Birla's conglomerate, which has been losing customers to bigger rivals.
Its financial health deteriorated after Reliance Jio Infocomm Ltd. sparked a brutal price war in 2016, and quickly clinched market share to become the top player.
The Net Present Value (NPV) of this interest is expected to be about Rs 16,000 crore as per the Company's best estimates, subject to confirmation by the DoT.
Since the average price of the Company's shares at the relevant date of 14.08.2021 was below par value, the equity shares will be issued to the Government at par value of Rs 10/- per share, subject to final confirmation by the DoT. The conversion will therefore result in dilution to all the existing shareholders of the Company, including the Promoters," the company said in a statement.
The teleco stated that the Department of Telecommunications (DoT) had offered Vodafone Idea a few options regarding the Telecom Reforms Package. The board had opted for deferment of Spectrum Auction Instalments due upto 4 years; and deferment of AGR related dues by 4 years in the meetings held on October 18 and October 27 last year.
The DoT had also offered the company a period of 90 days to exercise the option of converting the interest that would accrue on instalment payment during the moratorium period into equity. The NPV of the amount was to be calculated as on the date of exercise of the option.