October 12, 2023: Adobe, the software giant renowned for its innovative multimedia editing and graphic design solutions, sent ripples through the creative industry with a stunning revelation of 11 AI-powered 'prototype' tools and features during the second day of its MAX conference. With over 100 AI features showcased across its Creative Cloud flagship applications, this move propels Adobe into the forefront of the generative AI sector.
These groundbreaking updates will soon be available to users of Adobe's flagship products, such as Illustrator, Photoshop, Lightroom, Premiere Pro, Effects, and Adobe Stock. Powered by Adobe's generative AI software, Firefly, these tools promise to revolutionize workflows, redefine photo editing, and introduce a "generative fill" feature that can seamlessly expand images while generating ready-to-use templates.
One of the most notable reveals at "Sneaks," an event featuring experimental features from Adobe's team of engineers and research scientists, was Project Stardust. This AI-powered tool streamlines photo editing by identifying key objects within an image and simplifying the editing process. Users can effortlessly detect and remove unwanted objects from photos, including shadows, with impressive AI-generated replacements. Some may liken "Project Stardust" to Google's Magic Editor on Android, both aimed at simplifying photo editing tasks.
However, the true showstopper at Sneaks was Project Fast Fill. This innovative tool introduces generative fill technology from Photoshop to video editing, enabling users to remove objects or change backgrounds in videos using a simple text prompt. Adobe's claim that it works seamlessly even in complex scenes with dynamic lighting conditions is nothing short of groundbreaking.
Among the AI innovations showcased by Adobe was Project See Through, designed to eliminate common annoyances such as reflections in glass from pictures. Adobe also gave a sneak peek of Project Draw & Delight, a tool that transforms doodles and sketches into refined vector drawings with a text prompt. Project Dub Dub Dub caught the audience's attention by automatically translating voice recordings or video audio tracks into various supported languages while retaining the original speaker's voice.
Adobe Project Primrose wowed the crowd with its interactive dress, which featured "flexible textile displays" that allowed wearers to showcase patterns and images on their bodies, much like a programmable screen.
Adobe express empowers you to move at the speed of social
In showcasing these futuristic AI tools at MAX, Adobe demonstrates the rapid evolution of generative AI in the realm of creative work. This year's conference theme centers on the use of generative AI to enhance and build upon ideas, rather than replacing professional designers. Adobe also unveiled new AI models, including the next-generation Firefly Image 2 model, which produces even higher-quality imagery than the original Firefly model.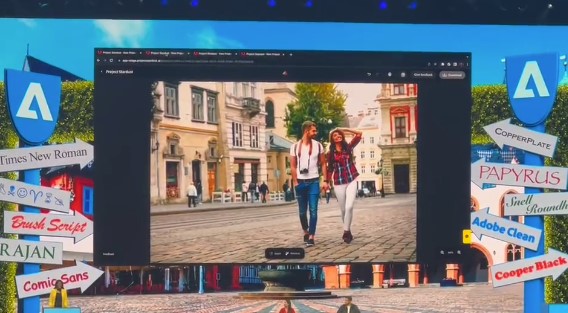 In addition to these remarkable updates, Adobe announced new AI capabilities across Adobe Creative Cloud apps and Adobe Express, solidifying its commitment to pushing the boundaries of creative innovation.
With these transformative AI tools on the horizon, Adobe continues to lead the way in shaping the future of creative expression, promising to empower and inspire creators worldwide with their next-generation technologies.