Casper Ruud is one win away from clinching US Open Crown and also attain World No.1 Ranking after he defeated Karen Khachanov 7-6(5), 6-2, 5-7, 6-2 to go to his second Grand Slam final. He has now greatly increasing his prospects of reaching No. 1 in the Pepperstone ATP Rankings, at the US Open 2022 championship on Friday.
The 27th seed attacked hard, but the Norwegian took it in stride as he prevailed in a titanic 55-shot rally to take the opening set. The fifth seed displayed intense play throughout the three-hour match, forcing the 26-year-old into mistakes to get within one victory of winning his first major championship.
Casper Ruud Storms into US Open 2022 Final with a convincing win over Khachanov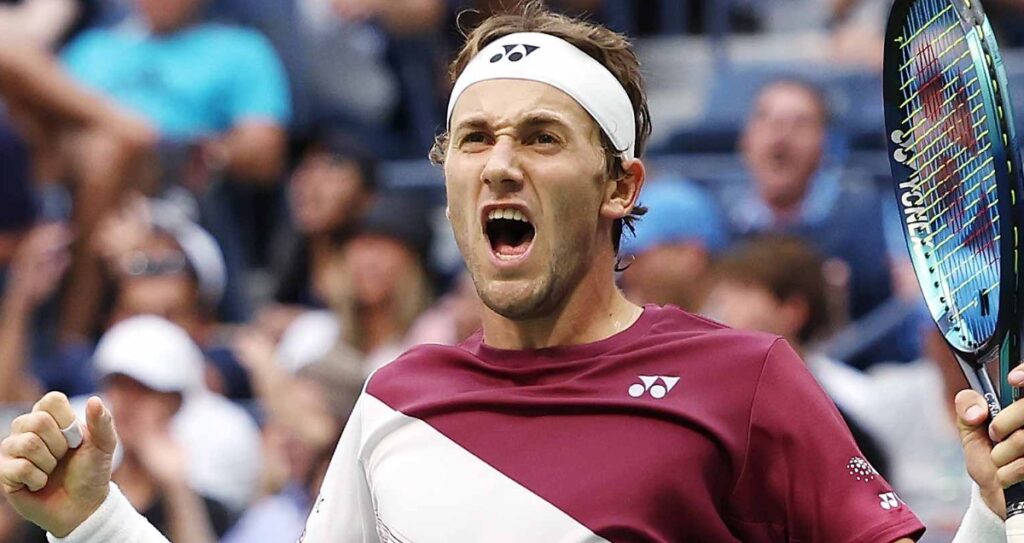 In the title match, Ruud, who fell to Rafael Nadal in the Roland Garros final in June, will take against either Carlos Alcaraz of Spain or Frances Tiafoe of the United States. The fifth-seeded player will become the first Norwegian to hold the No. 1 spot on Monday if he wins in New York. If Tiafoe defeats two-time ATP Masters 1000 champion Alcaraz in tonight's semi-final, he will also move up to the top spot. Casper Ruud eliminated Rafael Nadal's chances of regaining the top spot on Monday by making it to the final.
"This match today was another great match from my side," Casper Ruud said in his on-court interview. "I think we were both a bit nervous at the beginning, a few breaks back and forth. But you have to take into account that this match is probably the biggest in both of our careers. Of course there will also be some nerves but I was fortunate to win that first set, which calmed my nerves a little bit.
"I played phenomenal in the second and Karen stepped up in the third. It was back and forth like every five-setter is, but I am just so happy. After Roland Garros I was extremely happy but of course humble enough to think that could be my only final at a Grand Slam in my career. It doesn't come easy, but here I am back again a couple [of] months later."
Tiafoe, the world number 26, is bidding to become the first American Grand Slam men's finalist since Andy Roddick at Wimbledon in 2009.
The son of immigrants from Sierra Leone, Tiafoe is also just two wins away from becoming the first African-American champion in New York since Arthur Ashe in 1968.
Ruud will qualify for the Nitto ATP Finals if he wins the title on Sunday. The Norwegian, who reached the semi-finals at the end-of-year event in 2021, would become the third singles player to qualify, joining Nadal and Alcaraz.