India's hockey team secured a hard-fought 4-2 victory against Wales in their final Pool D match at the Hockey World Cup 2023 in Bhubaneshwar. Despite facing a tough third quarter onslaught from the Welsh side, the Indian team persevered, with goals from Akashdeep Singh (2), Shamsher, and Harmanpreet Singh sealing the win.
Brace from Akashdeep Leads India to Victory
Midfielder Akashdeep Singh played a crucial role in India's triumph, scoring two goals in the 32nd and 46th minutes. His first goal, a result of a one-two play with Mandeep, helped India extend their lead and regain momentum after Wales scored twice in quick succession.
India Withstands Welsh Onslaught
Wales put up a strong fight, leveling the score at 2-2 in the 42nd and 44th minutes through penalty corners from Gareth Furlong and Draper. But the Indian team remained composed, with Akashdeep's second goal shifting the tide back in their favor. Despite the Welsh team's efforts to equalize in the final minutes, India's defense held strong to secure the win.
India Awaits Quarterfinal Fate
The victory was not enough to secure a top spot in Pool D, as England's 4-0 defeat of Spain earlier in the day put them in the lead. India will now enter the crossover stage to determine their quarterfinal fate.
India's Journey to Glory: The Hockey World Cup 2023 Story
The Indian hockey team's journey to the World Cup in Bhubaneshwar was filled with ups and downs, but they persevered and proved their mettle on the world stage. The team's hard work and dedication paid off as they secured a spot in the quarterfinals, setting the stage for an epic showdown against their rivals.
In the group stage, India faced tough competition from the other teams in their pool, including England and Spain. But the Indian team rose to the occasion, with standout performances from players like Akashdeep Singh and Harmanpreet Singh. They secured a hard-fought victory against Wales in their final pool match, which secured them the second spot in the group and the opportunity to advance to the crossover stage.
Despite facing adversity in the form of injuries and setbacks, the Indian team remained focused and determined in the ongoing Hockey World Cup 2023. They delivered strong performances in the crossover stage, defeating their opponents and securing their spot in the quarterfinals.
Hockey World Cup 2023 Standings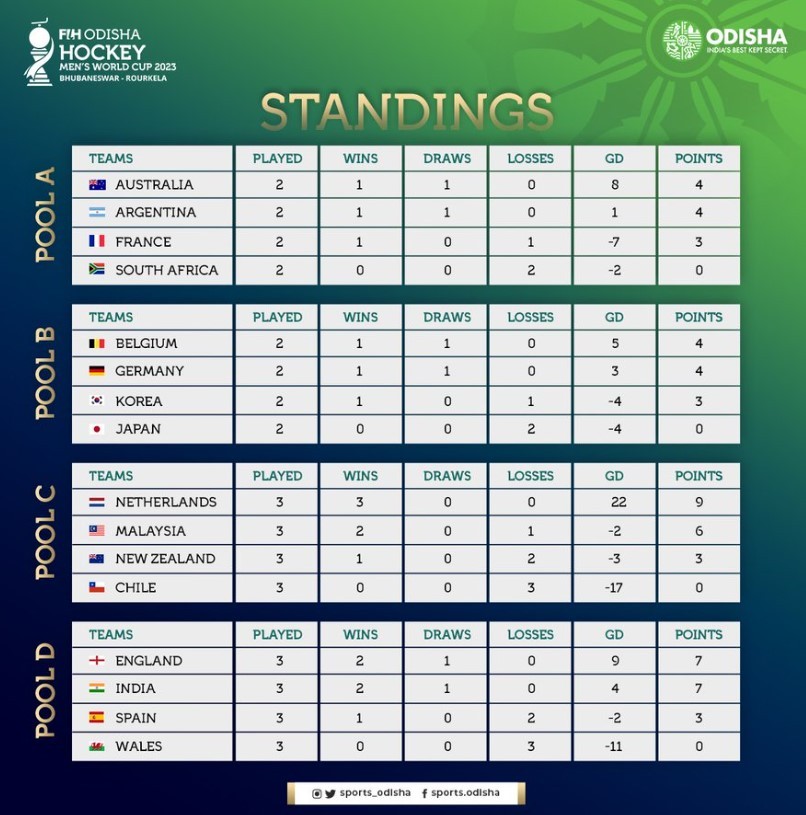 As the team prepares for their quarterfinal match, the entire country is rallying behind them, cheering them on as they compete for a spot in the semifinals and ultimately, the World Cup title. The Indian team's journey has been a thrilling one, and they have made the nation proud.