ICC Men's T20 World Cup 2022 has started and some of the biggest clashes of the tournament is already sold out. The biggest shocker of the tournament is Namibia has outplayed Sri Lanka to register their win.
In the super opener Aaron Finch's squad will take on Kane Williamson's New Zealand in a rematch of the ICC Men's T20 World Cup 2021 Final oOn Saturday, October 22, at 6 p.m. AEDT.
Fans have already purchased over 600,000 tickets to attend the first-ever ICC Men's T20 World Cup held in Australia.
The following night's India vs. Pakistan game at the MCG on October 23 will also be played in front of a packed house thanks to the quick sale of additional standing room tickets that were made available two months ago.
ICC Men's T20 World Cup : Namibia Upsets Sri Lanka, Other Big Matches Sold out
Namibia beat Sri Lanka by 55 runs.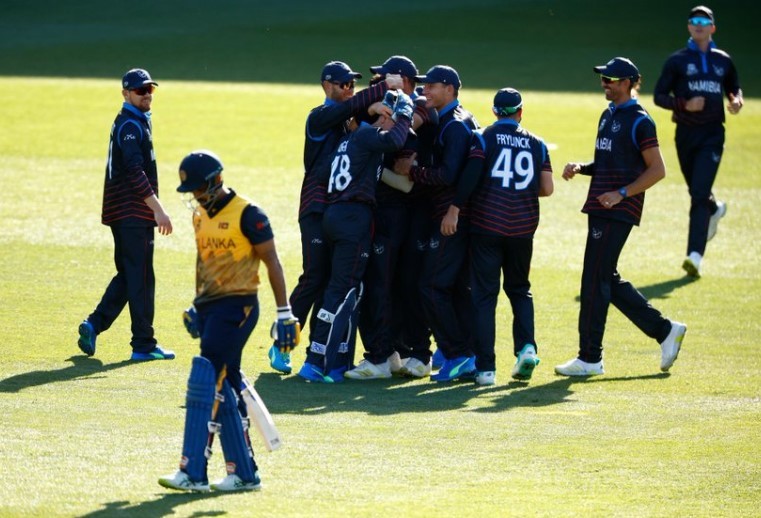 With the advent of an official T20 World Cup resale website, fans now have a safe and secure means to purchase and resell tickets at face value and guarantee that as many tickets as possible are used.
For the doubleheader involving South Africa vs. Bangladesh and India vs. the Group A runner-up at the SCG on October 27, all available tickets have already been sold. A very small number of tickets are still available for the first game of the event, which takes place on Sunday at Kardinia Park Stadium in Geelong and features Sri Lanka vs. Namibia.
Tickets are still available for most matches, but fans are encouraged to act now to secure their seats at t20worldcup.com at family-friendly prices. Tickets are just $5 for children (2-16 years) for all First Round and Super 12 matches, and adult tickets start at $20.
ICC Men's T20 World Cup CEO Michelle Enright said: "The T20 World Cup is one of the biggest sporting events in the world and we're delighted that we're set to see big crowds for both the opening match of the event in Geelong this Sunday and the first weekend of the Super 12 stage in a week's time."
"It's going to be fantastic to see full stadiums for cricket in October and a great way for fans to celebrate the first ICC Men's T20 World Cup in Australia."
"No matter if you support Australia, New Zealand, India, Pakistan, or any other team, there are still some great seats available at matches right across the seven host cities, so I'd encourage everyone who hasn't secured their tickets to jump on board for what will be an unmissable event."
AUSTRALIA'S T20 WORLD CUP FIXTURE
V New Zealand, SCG, Sat 22 Oct, 6pm AEDT (SOLD OUT)
V Group A winner, Perth Stadium, Tue 25 Oct, 7pm AWST
V England, MCG, Fri 28 Oct, 7pm AEDT
V Group B runner-up, Gabba, Mon 31 Oct, 6pm AEST
V Afghanistan, Adelaide Oval, Fri 4 Nov, 6:30pm ACST
NEW ZEALAND'S T20 WORLD CUP FIXTURE
V Australia, SCG, Sat 22 Oct, 6pm AEDT (SOLD OUT)
V Afghanistan, MCG, Wed 26 Oct, 7pm AEDT
V Group A winner, SCG, Sat 29 Oct, 7pm AEDT
V England, Gabba, Tue 1 Nov, 6pm AEST
V Group B runner-up, Adelaide Oval, Fri 4 Nov, 2:30pm ACST