Under pressure from hundreds of activist employees, Twitter deplatforms Trump, a sitting US President, even though they themselves acknowledge that he didn't violate the rules: Elon Musk Tweeted.
This followed a thread from @Bariweiss which noted the story behind Trump ouster from Twitter:
THREAD: THE TWITTER FILES PART FIVE.
THE REMOVAL OF TRUMP FROM TWITTER.
On the morning of January 8, President Donald Trump, with one remaining strike before being at risk of permanent suspension from Twitter, tweets twice.
"The 75,000,000 great American Patriots who voted for me, AMERICA FIRST, and MAKE AMERICA GREAT AGAIN, will have a GIANT VOICE long into the future. They will not be disrespected or treated unfairly in any way, shape or form!!!"
"To all of those who have asked, I will not be going to the Inauguration on January 20th."
Twitter for years resisted calls to ban Trump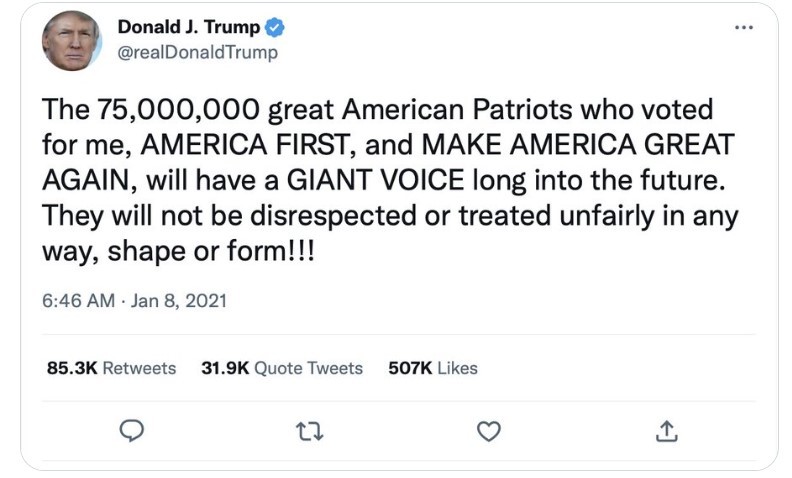 For years, Twitter had resisted calls both internal and external to ban Trump on the grounds that blocking a world leader from the platform or removing their controversial tweets would hide important information that people should be able to see and debate.
"Our mission is to provide a forum that enables people to be informed and to engage their leaders directly," the company wrote in 2019. Twitter's aim was to "protect the public's right to hear from their leaders and to hold them to account."
But after January 6, as @mtaibbi and @shellenbergermd have documented, pressure grew, both inside and outside of Twitter, to ban Trump.
But voices like that one appear to have been a distinct minority within the company. Across Slack channels, many Twitter employees were upset that Trump hadn't been banned earlier.
After January 6, Twitter employees organized to demand their employer ban Trump. "There is a lot of employee advocacy happening," said one Twitter employee.
"We have to do the right thing and ban this account," said one staffer.
It's "pretty obvious he's going to try to thread the needle of incitement without violating the rules," said another.
How Does Twitter Deals with heads of States like Trump
To understand Twitter's decision to ban Trump, we must consider how Twitter deals with other heads of state and political leaders, including in Iran, Nigeria, and Ethiopia.
In early February 2021, Prime Minister Narendra Modi's government threatened to arrest Twitter employees in India, and to incarcerate them for up to seven years after they restored hundreds of accounts that had been critical of him.
Twitter did not ban Modi.