Xpheno (pronounced ex-feeno) newest, and the second largest Recruitment Delivery Centre in India for Specialist Staffing and Executive Search businesses in Hyderabad is set to boost Telangana's position as a specialised talent rich-hub and cater to the specialised executive talent need of GCCs.
Shri Jayesh Ranjan, Principal Secretary (Department of IT&EC, Department of Industries and Commerce), Govt of Telangana inaugurated the launch of the new center and released T+ve Telangana – Building & Sustaining a Talent Positive Telangana – an Xpheno Workforce Research Report, in the presence of various CXOs and HR leaders of renowned corporations on Tuesday evening.
Shri Jayesh Ranjan said, "The world's most admired corporations, unicorns and startups are increasingly choosing Hyderabad as their destination for expanding scale and capabilities. Xpheno's decision to set up its Recruitment Delivery Center here will add tremendous strength to the staffing ecosystem which is the backbone of any industry. Their trust in Hyderabad, demonstrated through the T+ve Telangana report, reaffirms the huge potential of the city and its talent pool."
Commending the T+ve report Jayesh said, "This will be of great value to us. We will go through all the analysis and the insights of this report and this would be of tremendous value to us. Currently, Hyderabad as a city has the highest number of tech jobs in the country than anywhere else" he added.
Kamal Karanth, Co-founder of Xpheno said "MNCs exploring to set up their Tech centers in India are particular about the Skill_Speed_Scale_Price matrix of Indian Cities and Hyderabad has become a winning proposition in all these parameters which has hastened our decision to set up a 150-seater Recruitment Delivery Center."
"We aim to become a reliable talent partner for Global Capability Centers (GCCs) in Telangana, a state which is now the first choice to host some of the most sought-after global corporations of the world. Our focus is to further propel Telangana as a specialist talent-rich hub when it comes to GCC expansions for MNCs, and help promote the development prospects here', said Satish Manne, Partner & Head of operations at Xpheno Hyderabad.
Xpheno, which has deployed over 12,000 engineers and staffed over 30 greenfield MNCs in RPO mode in its 6 years of running, has introduced a suite of service offerings in Hyderabad ranging from specialist talent sourcing, leadership hiring, talent deployment, and talent management. It will also provide several on-demand offerings that relate to subject matter expertise and talent engagement. Programs that deal with culture and value orientation for India-bound enterprises will be a part of these offerings as well.
Xpheno Releases Landmark Staffing Report T+ve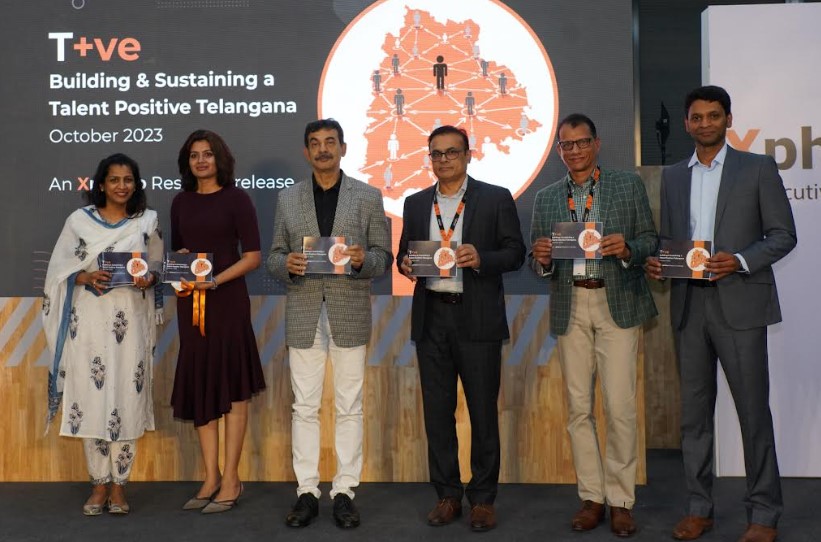 Another highlight of the evening was the release of the landmark report T+ve: Building and Sustaining a Talent-positive Telangana. The insights from the report shed much light on the state of Telangana's talent pool.
"Telangana happens to be one of seven Indian states that has a net-positive flow of talent, absorbing more talent than it loses to other geographies. Over 1.6M job seekers from other states have stated Telangana as a preference for relocation. A million of this talent comes from other megacities," said Anil Ethanur, Co-founder, Xpheno. "Telangana has very strong inbound and outbound talent corridors with all major talent states and their megacities. Andhra Pradesh, Karnataka and Maharashtra are the top states which have strong 2-way talent movements, Ethanur added.
The corporate interaction also entailed a rousing discussion on 'Women in the Workforce: Can we reach the 50% mark?'. A fireside chat led by Kamal Karanth was held as part of the event to focus on this aspect.
As the world has its eyes on Hyderabad as a proven and potential destination for global enterprises, Indian conglomerates, and start-ups, Xpheno's decision to set up a large shop in Hyderabad is a logical reinforcement of the credibility of the City of Pearls and its talent.
Xpheno offers its technology infrastructure, research, talent sourcing, and end-to-end recruitment resources, including best-practice processes to global brands, Indian Conglomerates and VC Funded startups in their Contract2Hire endeavours. The Bangalore-based staffing agency boasts a Net Promoter Score of 79 amongst its deployed contractors.