ICC World Cup 2023: The upcoming ICC World Cup, known as CWC23, is set to captivate fans worldwide with an unprecedented spectacle. Promising an exhilarating extravaganza, this highly anticipated tournament is scheduled to commence on October 5th, unveiling a series of unforgettable cricket clashes.
Adding to the intrigue, arch-rivals Pakistan are poised to face off against formidable opponents on the coveted Indian turf, intensifying the excitement and setting the stage for a fierce competition that is sure to leave cricket enthusiasts on the edge of their seats.
The International Cricket Council (ICC) on Tuesday announced the schedule for the 2023 men's ODI cricket world cup. The 50-over men's cricket will kickstart on 5 October at the Narendra Modi Stadium in Ahmedabad.
As per the fixture released by the cricket championship administration, the first match will be played between the 2019 World Cup finalist teams–England Vs New Zealand. India will also host Pakistan's cricket team for the first time in seven years. This clash between rivals India and Pakistan, which will be among the most awaited will be played in Ahmedabad on October 15.
India last lifted the ODI World Cup on home soil in 2011. Since then, Australia and England have won the title at home in 2015 and 2019 respectively.
Here is all the excitement that unfolds at the ICC World Cup 2023 including schedule live updates
Here's how to book ICC World Cup 2023 tickets online?

The tickets of the ICC World Cup will soon be available online. Fans can book their ICC world cup 2023 tickets from the official ICC Cricket World Cup website or eve the app. Apart from this, tickets can also be book from Bookmyshow, Paytm, Paytm Insiders. As per Economic Times report, tickets will mostly be available and will have limited offline sales.
Meanwhile, The two semi-finals will be played at the Eden Garden in Kolkata and the Wankhede Stadium in Mumbai. Meanwhile, the ICC ODI World Cup 2023 final will be played at the world's largest cricket stadium, the Narendra Modi Stadium in Ahmedabad which boasts a seating capacity of 132,000.
Indian team schedule for ICC World Cup 2023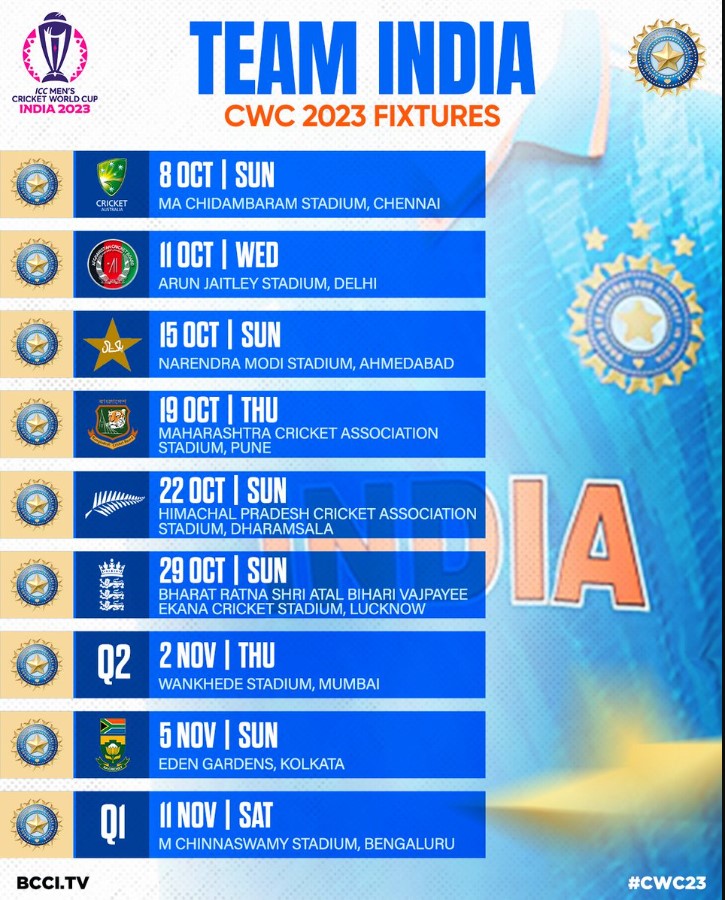 IND vs AUS, Oct 8, Chennai
IND vs AFG, Oct 11, Delhi
IND vs PAK, Oct 15, Ahmedabad
IND vs BAN, Oct 19, Pune
IND vs NZ, Oct 22, Dharamsala
IND vs ENG, Oct 29, Lucknow
IND vs Qualifier, Nov 2, Mumbai
IND vs SA, Nov 5, Kolkata
IND vs Qualifier, Nov 11, Bengaluru
See Full schedule of ICC World Cup 2023