Roger Federer Cried, his fans became emotional, his tennis rival too got emotional, In his last words from the court after bidding adieu to tennis the legendary, most admired tennis player of our times said, and wrote on his twiter It was a magical evening yesterday. Thank you again to all the players and fans who were here to share this moment with me. It means the world ❤️😊🙏🏼
Fan Reactions were overwhelming for their hero Roger Federer after his last match at Lavers Cup 2022
Rafael Nadal, in his tweet wrote. Dear Roger, my friend and rival. I wish this day would have never come. It's a sad day for me personally and for sports around the world.It's been a pleasure but also an honor and privilege to share all these years with you, living so many amazing moments on and off the court 👇🏻
amazing memories … once in a lifetime! thank you for being you Roger, we'll miss everything about what you've brought to the game
So much respect and admiration for you. Goat. Champ. Legend. You are so loved 💙👑
thank you, roger, for unforgettable years, unforgettable moments and an unforgettable night… there will never be enough words to say just what you mean to tennis and everyone connected to it ❤️ stay healthy, stay safe, and greatest of luck for anything to come, maestro
Thank YOU Roger! ✨
You know how much you mean to us, so you can imagine 😘…No one is like you. Uncomparable legend. The Goat. Our Hero.
Be always happy.
Who thought rivals can feel like this towards each other. That's the beauty of sport. This is the most beautiful sporting picture ever for me🙌❤️🫶🏼. When your companions cry for you, you know why you've been able to do with your god given talent.Nothing but respect for these 2. Virat Kohli wrote
another fan wrote: Roger Federer I couldn't be there but I was watching and crying. I'm so thankful for you. You were the reason I've watched tennis. There will never be anyone like you. ❤️ I feel so privileged I could see you live in Prague and thank you for that ❤️ Thank you, Roger. Thank you.
I was your true fan for 21 years, since Wimbledon 2001. No one plays the sport as perfect as you… your footwork, timing, variety of strokes and elegance are unique. You were an inspiration for many people that play tennis at all levels. Thank you
@rogerfederer , you are the GOAT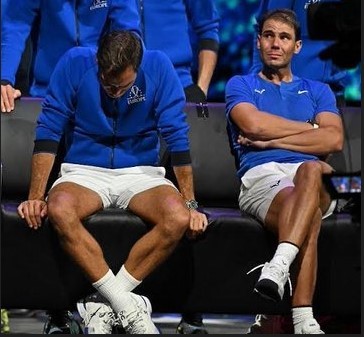 Roger Federer took to the court alongside longtime rival Rafael Nadal in the final competitive match of Federer's career. The pair faced Jack Sock and Frances Tiafoe at Laver Cup 2022 and lost with a final score of 4-6, 7-6, 11-9. The annual tournament, which is taking place in London, kicked off on Friday, pitting six top European players against six of their global contemporaries. Keep it here for the latest.
Before the match at the Laver Cup Rafa Nadal wrote on twitter We will have many more moments to share together in the future, there are still lots of things to do together, we know that. For now, I truly wish you all the happiness with your wife, Mirka, your kids, your family and enjoy what's ahead of you. I'll see you in London
We will miss you Roger Federer, you are a champion and a great charmer on court and off the court. Thenewsfacts wishes you an enriching, happiness filled life.