The two-time Wimbledon champion Rafael Nadal is perfectly poised to realise his hunt for the 3rd title. He also, got himself a new nickname. Wimbledon's official Facebook page shared a picture of the gallant fighter Rafael Nadal and said "Baahubali" after his gritty, highly determined five-set victory over Taylor Fritz .
It truly, is an apt nickname attributed to the Baahubali series that became the most famous movie of all time in Indian cinema. The two-time Wimbledon champion beat Fritz 3-6, 7-5, 3-6, 7-5, 7-6 (10-4) on Centre Court.
India batting great Sachin Tendulkar showered praise of tennis superstar Rafael Nadal, who served into the Wimbledon semi-finals after battling an abdominal injury, which nearly forced him to quit against Taylor Fritz. The Spaniard took a medical time-out in the second set but battled through to win 3-6, 7-5, 3-6, 7-5, 7-6 (10/4) in a grueling contest that lasted over four hours on Thursday.
The Baahubali of Tennis – Rafael Nadal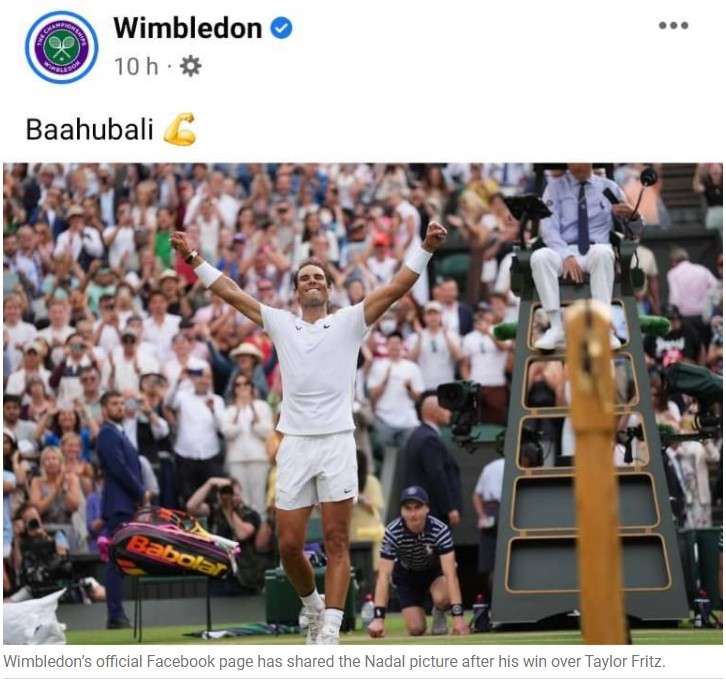 Rafael Nadal, however, is unsure whether he will be fit for the final-four game against Nick Kyrgios, who is ranked 40th in the world. The 36-year-old is bidding to win his 23rd Grand Slam title and equal Serena Williams in second place on the all-time list for most Grand Slam singles titles. Margaret Court is the leader with 24 titles.
Tendulkar lauded Nadal's never-give-up mindset and described him as a 'super competitor. "A super competitor who never ever gives up despite all adversities. Amazing game of tennis last evening @RafaelNadal. The way you compete each time you're on the court is just brilliant to watch," he wrote on Twitter.