PM Narendra Modi Birthday Wishes on his 72nd Birthday, has many colors, and the nation is celebrating it many special ways. World leaders, several people including stars like Shah Rukh Khan, from the film industry sent their best wishes to the Prime Minister. Here we list the best of of all since the morning.
On the sidelines of the SCO conference, Russian President Vladimir Putin wished Prime Minister Modi a successful day.. "As per Russian tradition, we never offer congratulations in advance, so I cannot do that right now. But I would like you to know that we know about, and we wish you all the best," Putin said.
"Hearty congratulations and best wishes to Prime Minister Narendra Modi on his birthday. I wish that the nation-building campaign being carried out by you with incomparable hard work, dedication and creativity, continues to progress under your leadership. I wish that God bless you with good health and long life," President Murmu tweeted in Hindi.
Vice President Jagdeep Dhankhar greeted Mr. Modi saying his transformative vision and inspirational leadership have elevated 'Bharat' to newer heights of glory.
"Warm birthday greetings to Hon'ble Prime Minister of India, Shri @narendramodi Ji. His transformative vision and inspirational leadership have elevated Bharat to newer heights of glory. May he be blessed with good health, happiness & many more years in the service of our nation," he tweeted.
Opposition leaders, including Congress' Rahul Gandhi, Sharad Pawar of the NCP, Tejashwi Yadav of the RJD and Bihar Chief Minister Nitish Kumar, also wished him.
Mr. Modi's ministerial colleagues paid fulsome tributes to his leadership and administrative acumen as they wished him on his birthday.
Home Minister Amit Shah hailed him as the flag-bearer of Indian culture who has connected the country to its roots and led it forward in every field.
Narendra Modi Birthday wishes : Here is how Shah Rukh Khan greeted him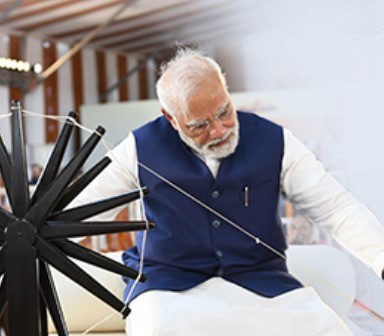 Your dedication for the welfare of our country and its people is highly appreciated. May you have the strength and health to achieve all your goals. Take a day off and enjoy your Birthday, sir. Happy Birthday @narendramodi – Shah Rukh Khan Tweeted
To mark PM Modi's birthday occassion, he launched Project Cheetah. Sharing this PM Narendra Modi wrote on twitter is our endeavour towards environment and wildlife conservation.
"Wishing PM Narendra Modi a happy birthday," Congress Leader Rahul Gandhi tweeted. Congress leader Shashi Tharoor posted a photo with PM Modi and wished him good health and long life. "May he work to remove the darkness enveloping so many of our fellow citizens & bring them the light of progress, development & social harmony instead," he tweeted.
Several events have been planned on behalf of the party to mark the occasion. BJP president JP Nadda will inaugurate an exhibition on PM Modi's life and leadership at the party headquarters in New Delhi.
Delhi chief minister Arvind Kejriwal put out a tweet wishing for PM Modi's long and healthy life.