Google Bard is stepping up its game with a brand-new integration, promising an enriched user experience that combines the power of AI with the familiarity of Google apps and services. The latest update, unveiled today, signifies a leap forward in Bard's capabilities, making it a versatile assistant like never before.
Connect to Google apps and services
Bard Extensions in English, the innovative feature introduced today, revolutionizes the way users interact and collaborate with Bard. Now, Bard seamlessly retrieves and presents pertinent information from various Google tools, such as Gmail, Docs, Drive, Google Maps, YouTube, and even Google Flights and hotels, all within the context of your conversation.
Imagine planning a trip to the Grand Canyon, a task that often involves juggling multiple tabs and apps. With Bard Extensions, you can instruct Bard to pull relevant details from Gmail, access real-time flight and hotel data, provide directions via Google Maps, and even showcase YouTube videos about the destination — all through a single chat.
Similarly, when you're job hunting and employing Bard to assist in the process, you can request Bard to locate your resume in your Google Drive, summarize it into a concise personal statement, and continue refining your cover letter, all in one fluid interaction.
Concerned about your privacy? Bard is dedicated to safeguarding your personal information. If you opt for Workspace extensions, rest assured that your content from Gmail, Docs, and Drive remains private and inaccessible to human reviewers, not used for ad targeting or model training. You retain full control of your privacy settings and can deactivate these extensions at any time.
Google Bard: Easily double-check responses and build on shared conversations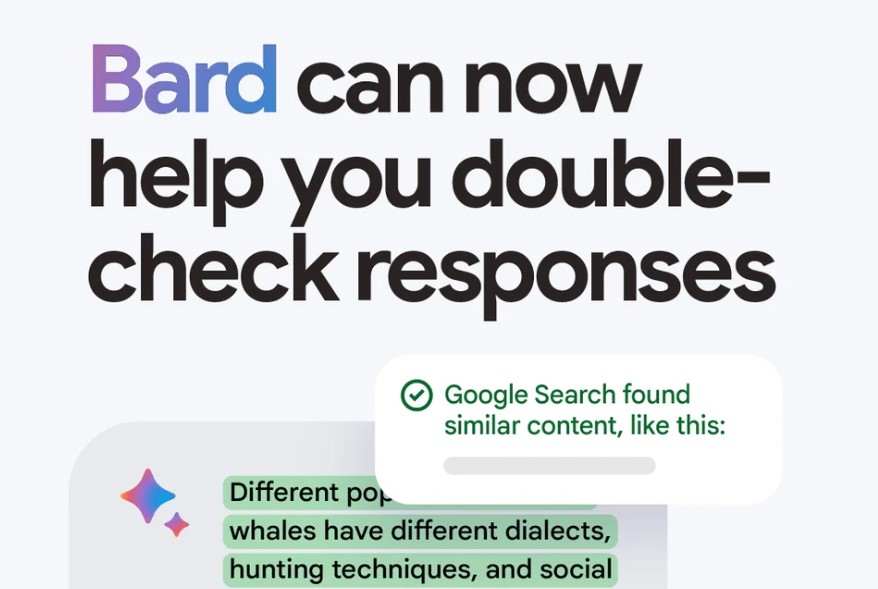 Starting today, Bard introduces an enhanced "Google it" feature in English responses. By clicking on the "G" icon, Bard will assess its response and verify it against web content. Users can click on highlighted phrases to access supporting or contradictory information found through web searches, ensuring accurate and reliable answers.
Furthermore, Bard is making it simpler to extend conversations initiated by others. When someone shares a Bard chat with you via a public link, you can seamlessly continue the conversation, pose additional questions on the same topic, or use it as a launchpad for your own ideas.
Access features in more places
In a commitment to inclusive communication, Bard is expanding access to its existing features across more than 40 languages. Users can now enjoy features like image uploads with Lens, get search results in various languages, and modify Bard's responses, making communication more accessible and versatile than ever before.
Try Google Bard's Most capable model yet
All these groundbreaking features are made possible by the upgrades applied to Bard's PaLM 2 model, which represents its most advanced iteration yet. In response to user feedback, Bard has harnessed state-of-the-art reinforcement learning techniques to enhance its intuition and creativity. Whether you're collaborating on creative endeavors, seamlessly switching between languages, or seeking in-depth coding assistance, Bard now delivers responses of unparalleled quality and accuracy.
Bard's latest integration with Google apps and its array of new features aim to redefine how users interact with AI, making tasks more efficient and user-friendly than ever before. As Bard continues to evolve responsibly, its commitment to user privacy and the global accessibility of its features remains unwavering.
Try the most capable Bard model today and experience the future of AI-assisted productivity.