India has kicked off a massive campaign to begin COVAXIN for Children today. As the vaccination for children of 15-18 years started with great response from parents and children, the makers of COVAXIN has chalked out plans to consolidate, expand vaccine supplies, with the goal of reaching 100 crore doses of Covaxin by 2022. For this segment, Covaxin is the only vaccine approved in India.
The campaign which kicked off today on a massive way across Indian States, have witness tremendous participation. Bharat Bioteh says from February 2022, it is gearing up to supply around 8 crore vaccines every month, up from the existing 5 plus crore doses.
The company has 4 facilities in India which is fully operational, while the facilities in Hyderabad and Ankleshwar will produce vaccinations, the plants in Bengaluru and Pune will produce the drug substance, or active pharmaceutical ingredients (APIs), which is the main component of vaccines.
"With its initiatives, Bharat Biotech is prepared and ready to contribute to India's vaccine effort, particularly the drive for teenagers," a company spokesperson told thenewsfacts.com.
The company continues to invest, upgrade, and expand its facilities for COVAXIN.
"We have augmented our production, and are well prepared to support this nationawide programme. As stated before, manufacturing scale up has been carried out in a stepwise manner across multiple, specially designed Bio-Safety Level-3 production facilities in Hyderabad in Telangana, Malur in Karnataka and Ankleshwar in Gujarat and Pune, Maharashtra, the productions are on track and on target, with an aim to touch an annualized ~1.0 billion doses of Covaxin," the spokesperson said.
COVAXIN for Children – Bharat Biotech ready to serve around 8 Crore doses from Feb from current 5-6 Crores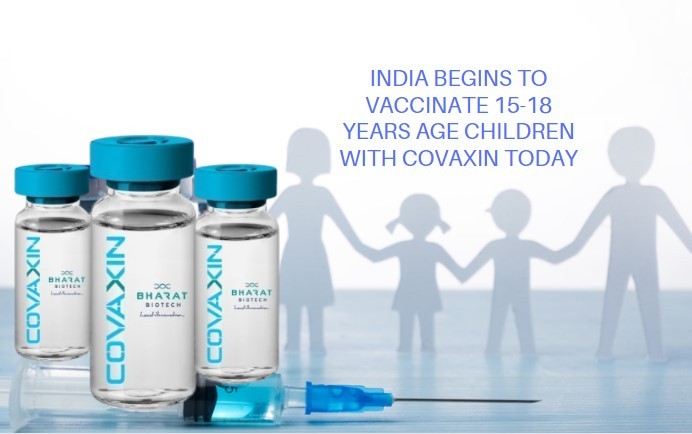 According to estimates from the Industry, India would require around 15 crore doses for vaccinating the age group between 15-18 years which has population of around 7.5 crore.
As per the data available publicly, a total of 15.71 crore Covaxin doses have been administered in the country to adults since vaccination started last year.​
The campaign kicked off on a great note today with multiple government hospitals and private hospital beginning the administration of vaccine, the source said that the we should not expect immediate rush at vaccination centers, we expect it to gradually increase.
"It has taken the adult vaccination program a full year to double vaccinate 50% of the eligible population. The vaccination program for children will also proceed on similar lines, where the eligible children population will be vaccinated during the course of the next 3-4 months."
While the production capacity has already gone up to touch 7-8 crore doses, the batch will be available for administration in February-March.
There is a gap of around two to three months from the manufacturing to supply of Covaxin, considering the vaccine undergoes more than 250 tests followed by tests in the government labs and time to supply doses to vaccination centres.​
Bharat Biotech, after receiving the approval from the country's apex drug regulator on the extension of expiry date from nine to 12 months, has started lifting the stock on its own expense for re-labelling or exchange from Private Hospitals. It has also received fresh orders from Private Hospitals for its vaccines.
COVID-19 UPDATES
Meanwhile, India's Active Caseload currently at 1,45,582. Active Cases presently constitute 0.42% of Total Cases. 33,750 New Cases reported in last 24 hours. Less than 50,000 Daily New Cases reported for last 189 consecutive days now.
With the administration of 23,30,706 vaccine doses in the last 24 hours, India's COVID-19 vaccination coverage has exceeded 145.68 Cr (1,45,68,89,306) as per provisional reports till 7 am today. This has been achieved through 1,56,67,018 sessions.