Bharat Biotech's COVID-19 vaccine for children under 12 years of age has got India's Subject Expert Committee nod. This recommendations given by SEC today makes the first vaccine maker in the country to get such an approval after a review of its trial data for the 2-18 age-group.
The decision is a big bolster to India's vaccination program to not only cover adults but also its younger population. Most importantly, vaccinating children against the coronavirus, having already rolled out more than 950 million doses to adults among its population of nearly 1.4 billion.
Bharat Biotech's Covaxin, which uses an inactivated coronavirus with an immunity booster, is among the three shots that are being used in India as part of the vaccination drive for adults.
More than 110 million doses of Covaxin have been administered and the company is in the process of securing an emergency use listing from the World Health Organization, a decision that is expected later this month.
Bharat Biotech Covid 19 vaccine is the first in the world for age group from 2-18 years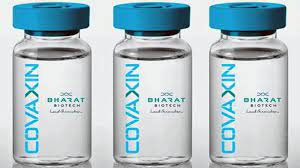 "This represents one of the first recommendations worldwide for COVID-19 vaccines for the 2-18 age group. Bharat Biotech sincerely thanks the DCGI, Subject Experts Committee, and CDSCO for their expedited review process. We now await further regulatory approvals from the CDSCO prior to product launch and market availability of Covaxin for children," Bharat Biotech said in a statement.
Bharat Biotech has submitted data from clinical trials in the 2-18 years age group for Covaxin (BBV152) to CDSCO. The data has been thoroughly reviewed by the CDSCO and SEC and have provided their positive recommendations, the vaccine maker said.
"After detailed deliberation, the committee recommended grant of market authorisation of the vaccine for the age group of 2 to 18 years for restricted use in emergency situations subject to the certain conditions," the SEC recommendations stated.
The recommendations have been forwarded to the Drugs Controller General of India (DCGI) for final approval.